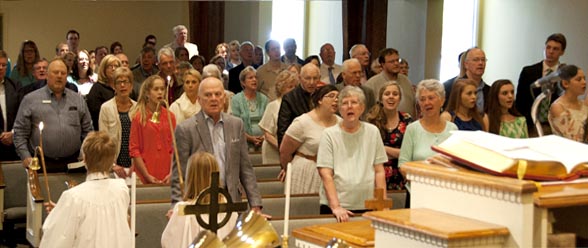 Mission Statement
Love Grows Here
Loving through Christ; Becoming Disciples; Serving All
Location and Directions
We are located at 5323 Bells Ferry Road, Acworth, Georgia 30102

View Larger Map
From I-75N: Exit Hwy 92, turn right, go to Bells Ferry Road, turn right; go 1/2 mile; the church is on the right.
From I-575S: Exit Hwy 92/01d Alabama Rd., turn right; go to Bells Ferry Rd., turn left go 1/2 mile; the church is on the right.
From I-575N: Exit Bells Ferry Rd, turn left; go two miles. The church is on the left (must U-turn to cross the median).
www.heritagepres.com | Facebook: Heritage Presbyterian Church
Church Staff
Rev. Elizabeth Lovell Milford – Pastor: pastor@heritagepres.com
Beth Cox – Office Manager: beth.cox@heritagepres.com
Denise Engelhardt – Music Director, Pianist: MusicDirector@heritagepres.com
Jordan Hofmeister – Choir Director: ChoirDirector@heritagepres.com
Lori Bell, Bookkeeper
Alma Malasi, Nursery
Church office: 770-926-3558
Office Hours: Monday-Thursday 9:00 a.m.- 4:00 p.m. Friday 9:00 a.m.- noon
History of Heritage Presbyterian Church
Heritage Presbyterian Church was founded in Acworth, Georgia, in 1976, the bicentennial of the United States of America. The first pastor was The Rev. Fred Boozer. The Rev. Sid Gunter took over in 1987 and retired in 2014. Heritage has completed five building programs, including a Sid Gunter Mission and Ministry Center. Heritage welcomed Rev. Elizabeth Lovell Milford June 6, 2016.
Who are Presbyterians?
Presbyterians affirm that God comes to us with grace and love in the person of Jesus Christ, who lived, died, and rose for us so that we might have eternal and abundant life in him. As Christ's disciples, called to ministry in his name, we seek to continue his mission of teaching the truth, feeding the hungry, healing the broken, and welcoming strangers. God sends the Holy Spirit to dwell within us, giving us the energy, intelligence, imagination and love to be Christ's faithful disciples in the world.
The name Presbyterian comes from the Greek word presbyteros, meaning "elder" and used in the New Testament to describe those who were elected to lead. It also describes how we are organized as a community of faith. From the local congregation to the national denomination, leaders are elected and representative of the whole body. We believe we are called into ministry together and that Christ is the head of the church.
We are a member of Cherokee Presbytery , and part of the Presbyterian Church (USA)